Eco Schools News
We are delighted to share with you that West Ewell Primary School has achieved an Eco-Schools Silver Award for our ongoing commitment to the international programme set up by the Foundation for Environmental Education. The aim of the award, in their words, is to "empower students to be the change our sustainable world needs by engaging them in fun, action-orienta
ted,
and socially responsible learning." Across the past academic year, our Eco Warriors and the
ir respective classes have been involved in a range of activities. These include: encouraging and monitoring effective recycling, switching off lights when not in use, making bird feeders and bug hotels, planting trees and pollinator-friendly plants and flowers, school grounds litter picking, and participating in the Big Garden Bir
dWatch. Well done to our Eco team and everyone at West Ewell Primary School for
supporting this ongoing project. Next, we will be exploring what we need to do as a school to achieve the prestigious Green Flag Award!
"Go Wild" this summer!
More and more of us are going out for daily walks and studies show that experiencing a little bit of nature every day makes us feel healthier and happier. Here below are some ideas from The Wildlife Trusts, for children and families who are keen to get outdoors and "Go Wild"! The aim is to do something 'wild' every day in June and into July until the end of term. Follow the link below, scroll down to the orange strips then download and print any of the "30 Days Wild" resources at home, which includes a a wall chart, activity passport of ideas, colouring page and bingo game!
Trouble following the link?
Click here to access a copy of the activity passport.
Earth Day
Eco-Schools celebrates International Earth Day on Wednesday 22nd April 2020. Click here for more information and to discover a whole host of Eco-friendly ideas to try at home.
ECO SCHOOLS AT WEST EWELL PRIMARY SCHOOL
The Eco Schools programme is pupil-led, involving hands-on learning that gets the whole school and the wider community involved in exciting environmental projects. It empowers pupils to lead change within their school and have a positive impact in their wider community. Pupils of all ages and abilities are encouraged to work together to develop their knowledge and environmental awareness. Positive impacts on pupils can include increased confidence, development of leaderships skills, improved pupil well-being and behaviour and greater motivation at school.
The Eco Schools Programme can be broken down into ten topic areas which are, in alphabetical order: Biodiversity, Energy, Global Citizenship, Healthy Living, Litter, Marine, School Grounds, Transport, Waste and Water.
West Ewell Primary School are currently working through the seven steps to Eco Schools success! The Seven steps are as follows:
Create an Eco-Committee, with representation from each class across the school and involving other staff members and adults within the school community (e.g. parents and carers). Committee members to meet regularly, at least once per half term.

The Eco Schools Committee carry out an Environmental Review, with focus on the ten topic areas detailed above.

The Eco-Committee create an Action Plan to prioritise areas of concern and focus on specific activities, following the environmental review.

Links to be made between the activities detailed within the action plan and the specific areas of the national curriculum in which the activities will best fit.

The whole school and the wider community to be kept regularly updated on activities and progress, with detail on how they can get involved. For example, through school newsletter and website updates, assemblies and during Eco-Committee led class feedback sessions.

Activities to be monitored and evaluated to measure change and discover what works and what doesn't. Activities to be updated and amended as relevant.

Create an ongoing Eco code mission statement, which demonstrates the school's commitment to improving its environmental performance.
Commitment to the Eco Schools programme is rewarded through three levels of awards, being the first level Bronze Award – which West Ewell Primary School achieved in March 2020, the mid-level Silver Award – which we are now currently working towards, and the prestigious Green Flag Award – which is our long term aim.
A representative from each class forms our Eco-Schools committee.
Eco Warriors are currently:
Niall (Apple), Tommy (Oak), Travis (Cherry), Oscar (Holly), Elena (Maple), Bertie (Maple/Rowan), Ashley (Sycamore), Aaliya (Willow), Finlay (Poplar), Daniel (Larch), Henry (Hazel), Sienna (Eucalyptus), Jamie (Spruce), Harrison (Hawthorn), Emily (Aspen), Imogen (Blackthorn), Freya (Rowan Hub/ Magnolia) and Emily (Magnolia).
Together, with Eco-Schools Coordinator Mrs Blythen, the Eco Committee carried out the ten-part Environmental Review. Please click here to view the results.
The Eco committee meet regularly (at least once each half term). Meeting minutes and Action Plans can be found below:
Eco-Schools Meeting Minutes / Action Plans:
Please click here to see the action plan 2nd October 2020
Please click here to see the meeting minutes from 9th March 2020.
Please click here to see the action plan 9th March 2020.
Please click here to see the meeting minutes from 8th January 2020.
Please click here to see the action plan from 8th January 2020.
Please click here to see the meeting minutes from 18th November 2019.
Please click here to see the action plan from 18th November 2019.
*The committee were next due to meet WB 27th April. The agenda will be held until school resumes, later in the year.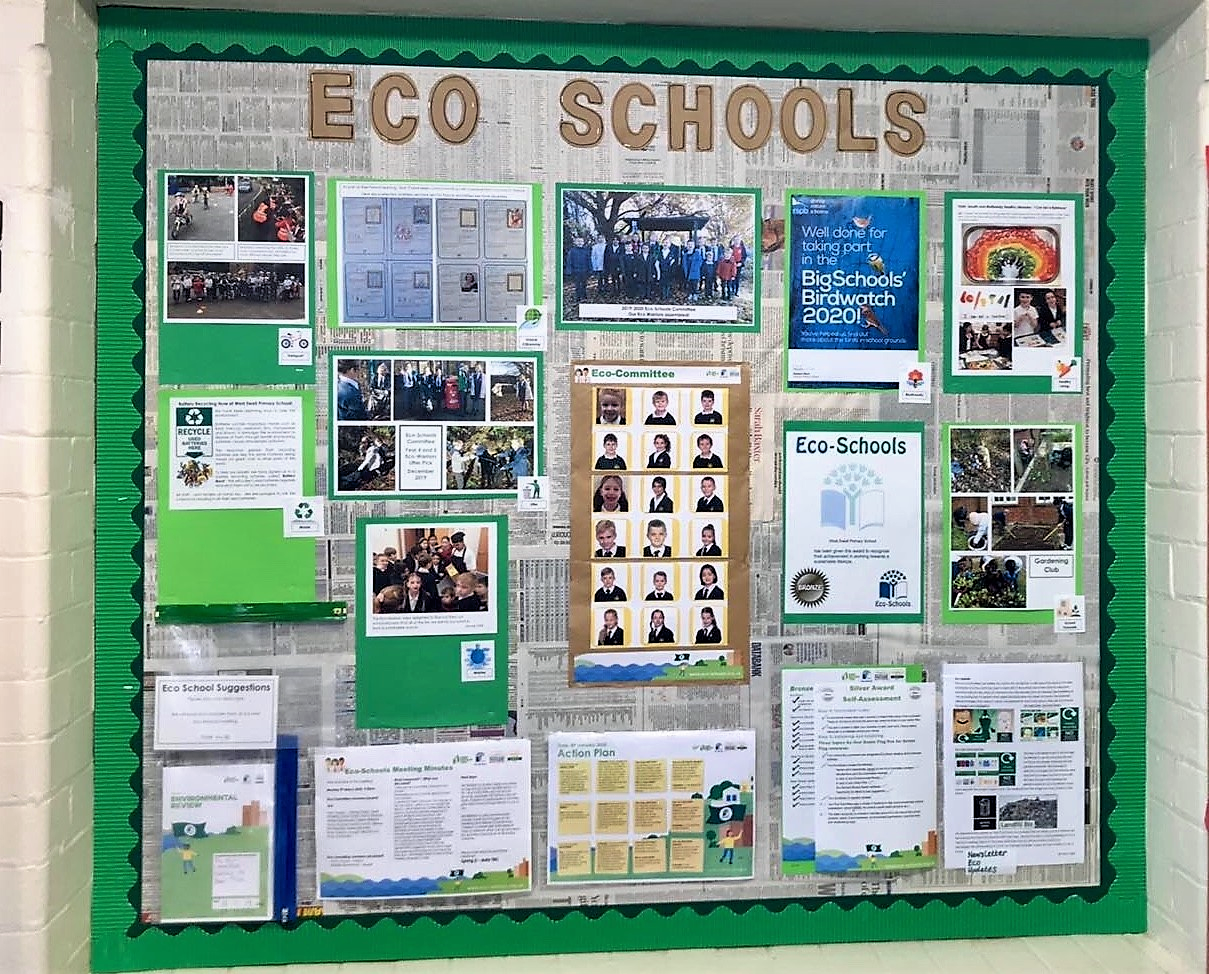 The committee have an Eco-Schools display in a prominent position in the main building. The display allows the committee to share with the rest of the school what they have achieved so far and what they plan to do next. It also has a 'suggestions' area, where children and adults are able to share their ideas. Should you wish to share an idea with the committee, then please do send it to the Eco Schools Coordinator, Mrs Blythen, by email: cblythen@west-ewell.surrey.sch.uk using the subject title of "Eco Schools suggestion". Many thanks.