Autumn Term 2023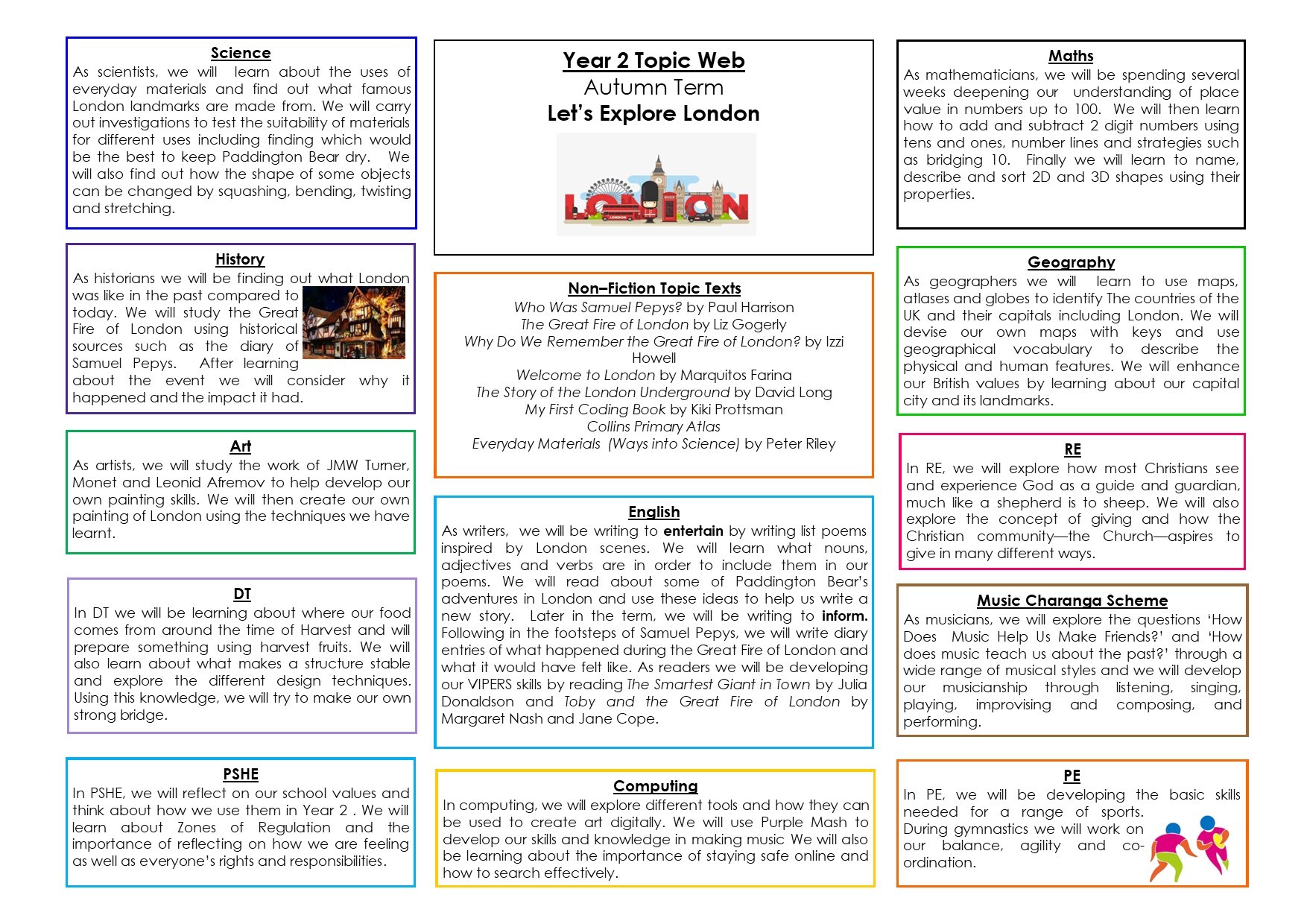 Year 2 Word Aware words for the Autumn term
Year 2 curriculum overviewYear 2 Curriculum information slides September 2023
Year 2 Parent Information Slides 2023
Year 2 End of Year Expectations
Year 2 Addition and Subtraction Strategies
Year 2 Glossary of Grammar Terms
Year 2 SATs Information Slides 2022
Downloadable Phase 2, 3 and 5 Grapheme mat from Little Wandle
---
We follow the National Curriculum: The National Curriculum
Please click here to find out more about how we tailor the curriculum for our children
Top Tips For Year 2 Parents
Look for numbers when you are out and about. Try adding or subtracting house numbers or partitioning bus numbers into tens and units.
There are plenty of board games that require maths and English skills. These can fun for the whole family and support learning going on at school.
Look for opportunities to reinforce number bonds to ten as these underpin all future addition and subtraction learning! (0 + 10, 1 + 9, 2 + 8, 3 + 7, 4 + 6, 5 + 5)
Wherever possible, let you child handle money and work out change.
Look for opportunities to rehearse times tables. By the end of year 2, children need to know their 0, 1, 2, 5 and 10 times tables and be able to recall any of them rapidly, not just in order. They can move onto 3s and 4s if they want to be challenged further.
Encourage your child to question the things they see, to wonder how and why things happen, so that they can become deep thinkers.
When taking part in any writing activity (thank you letters, postcards) always encourage your child to start with capital letters and finish with a full stop. Bad habits can be hard to break!
Encourage your child to read road signs, the backs of food packages etc… to develop their range of words recognised on sight.
Encourage children to use a wide range of vocabulary, eg. Use interesting adjectives to describe an object – don't settle for 'big/small', 'happy/sad!'
Some children enjoy keeping diaries of special events or holidays. They are always welcome to bring these in to share with the class, along with any other objects which have contributed to out of school learning.
---
Homework
You can find our EYFS and KS1 Homework Policy here.
Our approach to homework is one where we believe that homework should complement our learning in school and not be a stressful experience at home.
Parents are key educators in their children's lives and have a critical influence over the success of children's learning. We suggest that in the early stages of a child's school life at least 10 minutes is set aside each day to talk to your child about their learning, to read with your child, play games and develop their self-help skills.
As your child moves through the Primary phase they will begin to have more formal tasks such as learning multiplication tables and spellings, projects; and be expected to work for longer periods and with increasing independence.
Homework can also be a walk in the park, a swimming trip, baking, an art activity, visiting family.
For the full version of the spelling lists, please click on the following link:
---
To find out more about the curriculum we follow, please click on the following link: