International Links
We have been awarded the British Council International School Award!
The assessor wrote " This has led to an increased awareness amongst pupils of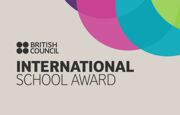 their own world and the sharing of information about each other's countries, culture and customs with your partner schools."
---
West Ewell Primary School and Nursery currently have links with seven schools overseas, as follows:
Greenery House Nursery in Chile
Groupe Scolaire du Champs Fleuri in France
Bal Raman Batika Montessori Preschool in Nepal
Nishat Jute Mills Adarsha Bidyalay in Bangladesh
Malisi Garrison Army Public School and College in Pakistan
GD Goenka Public School in India
Long-Hai Elementary School in Taiwan
We have ongoing projects with each school and communicate with them via email, post and video link. Our current projects cover a diverse range of subject areas across the curriculum and enhance and enrich the learning. The children enjoy discovering more about life in other countries through the shared projects and direct links.
---
French Penpal Scheme
Key Stage 2 children are learning French as part of the Modern Foreign Language (MFL) curriculum. To make their learning more meaningful, we have forged an international schools partnership with a school in Northern France - Groupe Scolaire du Champs Fleuri in Masny. Year 4 have started regular communication with a one-to-one penpal and so far we have sent introduction letters, Christmas cards and Christmas crackers! We have written about ourselves to introduce us to our penpal and we have received letters of introduction from France too - written in our home languages - to practise reading and understanding a different language. Later this year, we plan to share videos of us practising a dialogue in French for our penpal to comment upon - and we will receive videos in English as they practise their language skills too.
---
Here is a recent message from Chile:
Hope you had a good start! We are sending our entry about the visit of the zoo to our school! They set a display of several animals which allow the children to visit each 'station' to discover and encounter the wonders of animals around the world. We even had an alligator so that they could see it closely!
The second set of pictures is about our national Independence Day which is in September. Teachers and students dance our different national traditional dances, prepare and eat our traditional food (empanadas which look pretty much like Cornish pasties) and dress with our traditional costumes which resemble what country people used to wear. Hope you all enjoy it.
---
Looking to find out more about our school community, the school staff shared their cultural heritage, including their birth country and the languages they speak. We discovered lots of things about each other that we didn't know before!