Parent View
Feedback on our Remote Learning Offer
"We wanted to email to say a huge thank you to you, to the amazing team at West Ewell Primary School. The past 12 months have been difficult for everyone but in amongst the doom and gloom the staff have provided much needed stability, structure, and a level of normality which I know has helped our children. We really do appreciate the level of work and commitment you have all shown hosting teams lessons, live lessons and even recording videos at weekends and late into the night so that our children don't suffer. Our children are lucky to have you all looking out for them and I know that they have not felt large negative effects of lockdown because of the work undertaken by their teachers, for that we thank you! How you all do it is beyond me, but we are grateful that you do! I'd never admit it to the children but I re-learnt a fair bit with them too this past year!"
---
"The online learning has been fantastic, engaging and easy to follow and allowed us to get into a proper structured routine at home"
---
"A huge Thank You to you all for pulling together such a great home learning package which has made home learning much more manageable for parents and children alike"
---
"We thought the live lessons were really great and it's actually already made a huge positive difference to our daily structure"
---
"I just wanted to drop you a line to let you know that we think you and everyone at West Ewell are doing an amazing job. We're so impressed with the setup and engaging classes the children are receiving and appreciate how difficult it is for everyone, so a BIG THANK YOU!!"
---
After our recent Reception Bubble closure, we received the following feedback from a parent:
"We just wanted to highlight to you the amazing work of the Reception team over the Reception Bubble's recent self-isolation period. We've been impressed daily by the engaging videos and activities that they've prepared for the children, and their positivity throughout. They've reacted very quickly to give helpful and motivating feedback on Tapestry and the class teacher personally phoned to check in on how our son was doing. The whole team are an absolute credit to the school, and we have nothing but praise for them for the way that they reacted to a difficult situation."
---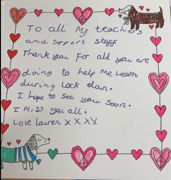 "Good reputation from other parents".
"WEPS is a wonderful school."
"This school embraces all the values that we would like our youngest child to grow up surrounded by".
"Our daughter currently attends West Ewell Primary & Nursery and has settled in very well. We live very close to the school and we are good friends with the neighbours whose older children currently attend West Ewell Primary. She really loves it there and her good friends already attend there, that is why I believe this is the best fit for her".
"This school is our local and has great facilities to accommodate our child. We both work varying shift patterns, so having a school within walking distance is convenient and takes away the need for driving".
Reception Writing Workshop - most useful aspects
"Understanding what difficulties this age group of child has to cope with"
"Gaining ideas for 'fun' ways to teach writing and spelling"
"Understanding how complex learning to write is for a child. Lots of good ideas about engaging my child in fun writing activities"
"Learning how to teach my child at home the same way as at school. It reassured me that he is on track. Very useful. Thank you"
"Learning how to help my child at home and activities we can use; we found the evening very interesting, learning the stages children go through to help them learn to write"
Year 1 Reading and Maths Workshop
"Very informative. It's great that WEPS give this sort of workshop with parents; not all schools do. Thank you. Carry on the good work with teacher and parents being able to work together as a team"
"The session was great and really informative; great to be a 'fly on the wall' during lesson time and seeing the children in the learning environment. The teacher's passion and love for the children shone through"
Such a lovely way of teaching children maths, writing and reading. I can see the progress in English and maths"
"It was wonderful to see how interactive the lessons are and the 'fun' element; the children really enjoy learning and getting involved. It gave me an insight in how to help my son"
Year 2 Reading and Maths Workshop - most useful aspects
"It's great to see my child in the learning environment and the methods used"
"I love the teacher's style of learning. It's clear and fun and the children really engage and learn so well"
"It was great to see how the children learn and to be able to help them at home"
"Useful to see how you teach verbs, adjectives etc. and how you work out maths, both very different to how I was taught"
"Partitioning strategies"
"Brilliant presentation, very clear and gave some excellent learning strategies"
"Excellent workshop - well done!"